Our Mission: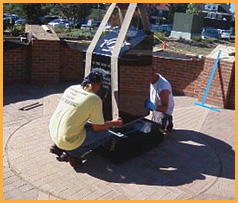 The Cuyahoga Falls and Silver Lake Police Memorial and Honor Guard Foundation is established to honor members of the police departments, past and present, encourage community awareness, and establish an endowment to maintain the professional appearance of the memorial site and honor guard.
This permanent police memorial, constructed between the City Municipal Building and Natatorium, honors our fallen officers killed in the line of duty, those killed while serving in the military, as well as deceased, retired officers of our community.
The official dedication and unveiling of the completed memorial took place on Tuesday, August 7, 2012, at 10:00am. Thank you for all of your support in making this memorial a reality for the communities of Cuyahoga Falls and Silver Lake.
If you wish to contribute to the continued support of the memorial, please mail your donation to:
Cuyahoga Falls & Silver Lake Police Memorial & Honor Guard Foundation
c/o CFSL Police MemorialP.O. Box 415Cuyahoga Falls, OH 44222Photo: John Deike